I feel very fortunate that I was allowed input into the choice of narrator for ALL THAT FALL, my debut thriller. It will be my first audiobook as an author. (I've listened to hundreds by other authors!) When I was given samples of actor/narrator/voice-over artists, I was impressed by all of them. There's a lot of talent out there. But because my book is from multiple points of view, I realized what I needed was someone who not only could give voice to Emma Lawson, the 32-year-old Sacramento-based investigator who is the lead in ALL THAT FALL, but who could also bring to life Emma's best friend Kate from Ireland, homicide detective Carlos Sifuentes originally from El Salvador,  three-year old Vivian, and 15 year-old Luke. Wait, what? How could one actor possibly do justice to all of those characters?
Fortunately, once I had that requirement in mind, the right narrator jumped out at me. In fact, she stood out so completely from the rest that I got nervous she might be not available or some other glitch would prevent her from doing it. But those fears were unfounded, and it is with great joy that I can announce that actor Caitlin Davies is narrating the ALL THAT FALL  audiobook, possibly even as I type this!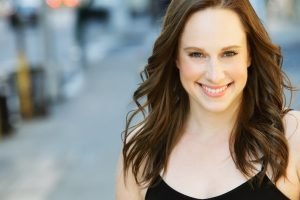 A bit about Caitlin: She is a voiceover artist and award-winning audiobook narrator. She's  also a freelance audiobook director with Macmillan Audio and Hachette Audio. Caitlin has narrated books for Audible, Blackstone, Blue Heron Audio, Brilliance, Dreamscape (my publisher!), Hachette, Harper, Listening Library, Macmillan, Penguin Random House, Podium Publishing, Scholastic, Simon & Schuster, Scribd, and Tantor Audio. And in the mind-bending "intersection of worlds category"  Caitlin has also voiced characters for the video game Magic: The Gathering Arena. My son, Nate, was the 2011 California state champion for Magic the Gathering (MTG), the in-person competitive version of the same game! (For those not familiar with MTG, it's kind of like poker, but with creatures and spells. There are an estimated 35 million Magic The Gathering players worldwide.)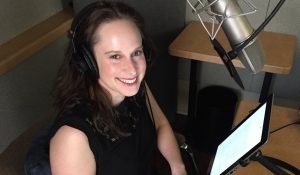 To be clear, I haven't heard a word yet of Caitlin voicing ALL THAT FALL. Which means when I assert "my narrator is better than your narrator", I may be out on a limb here.  But having heard Caitlin Davies' other amazing work, that limb feels very sturdy to me.
 Kris
For more about Caitlin: http://caitlindavies.com/narrator
To see what else she has voiced on Aubible https://www.audible.com/search?searchNarrator=Caitlin+Davies
To order the ALL THAT FALL  audiobook:
https://www.amazon.com/All-That-Fall-Kris-Calvin-ebook/dp/B08F4HDBBP/ref=tmm_kin_swatch_0?_encoding=UTF8&qid=&sr=
---
Subscribe to the Blog
---