A PERSONAL NOTE FROM THE AUTHOR: FOR SENSITIVE READERS
Caution: May contain spoilers.
You will not witness in All That Fall (or any of my writing) violence or unspeakable crimes against children. They may have hard histories or be frightened. There may be times we worry for them. Fictional adults, even beloved ones, may die. (These are, after all, thrillers and mysteries.) But every child you come to know will be safe. —Kris
---
BOOK CLUB/READING GROUP QUESTIONS FROM THE AUTHOR
CAUTION: CONTAINS SPOILERS. FOR DISCUSSION USE AFTER YOU HAVE READ ALL THAT FALL
https://documentcloud.adobe.com/link/track?uri=urn:aaid:scds:US:ed56d3ef-117b-4530-8c44-06dac3896fe7
---
READER CLIPS of THE WEEK: ALL THAT FALL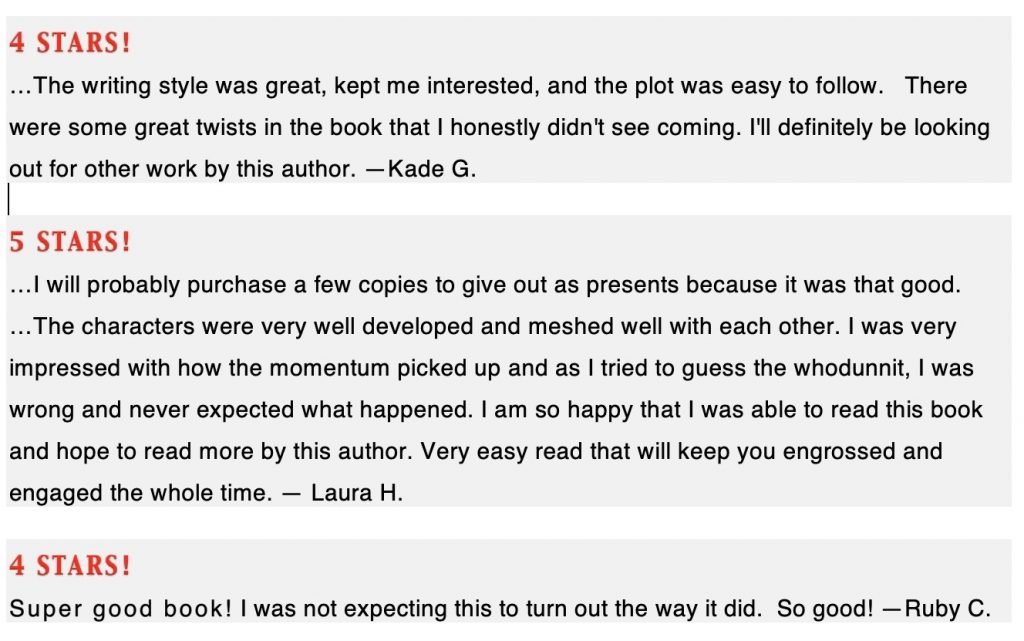 Tips from Kris for Writers
Kris featured in

Writers Digest

:

step-by-step tips for "Planting Clues: Red Herrings That Fool but Don't Frustrate Readers"
https://www.writersdigest.com/write-better-fiction/planting-clues-red-herrings-that-fool-but-dont-frustrate-your-readers
---
Hank Phillipe Ryan invites Kris to share her tips on Writing from Multiple Points of View over at

Career Authors

.
Writing from Multiple Points of View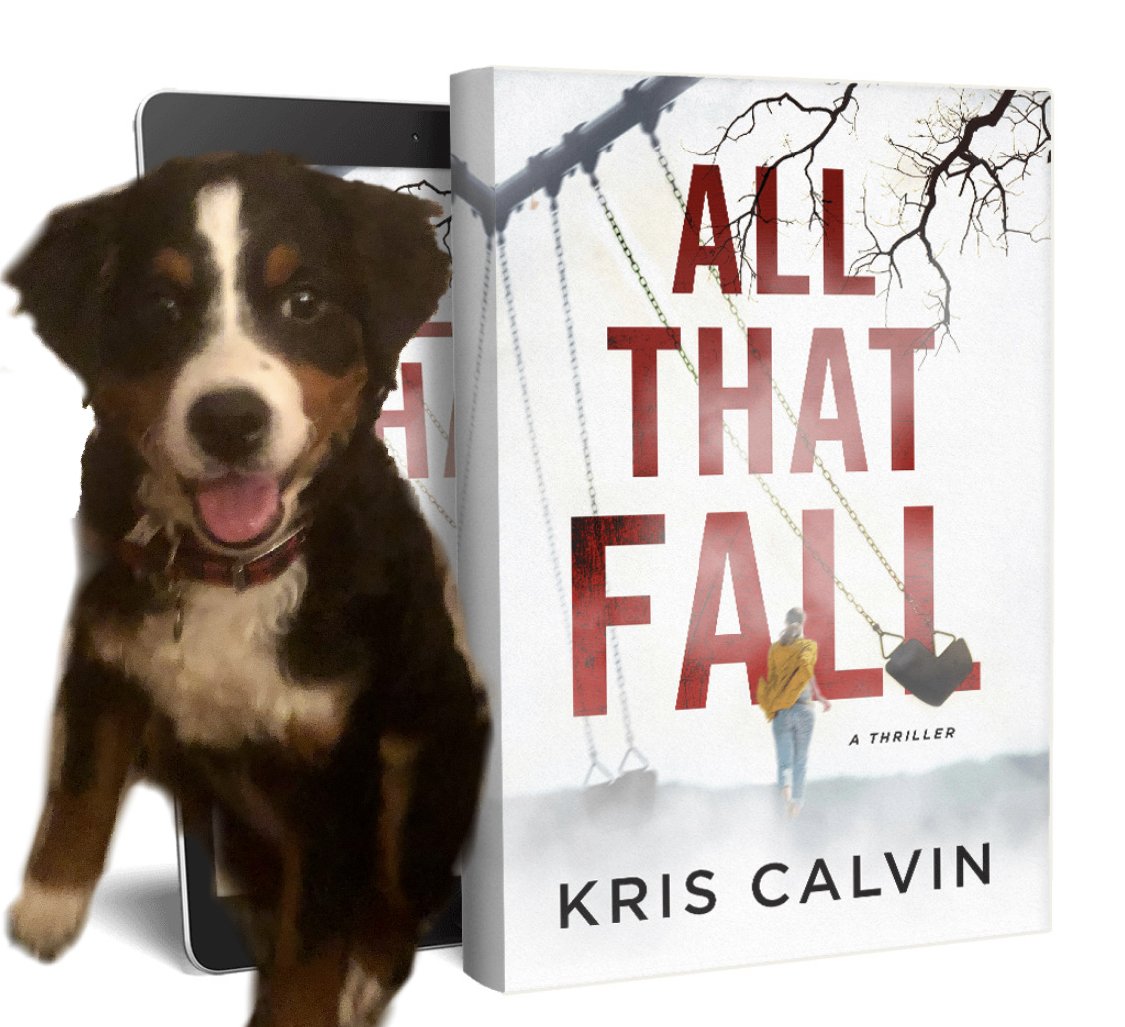 MORE COMFORTABLE WITH LARGE PRINT?
The Large Print edition of ALL THAT FALL is available for PREORDER now! You can also request it from your Local Library!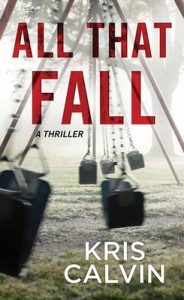 LISTENER CLIPS OF THE WEEK: ALL THAT FALL AUDIOBOOK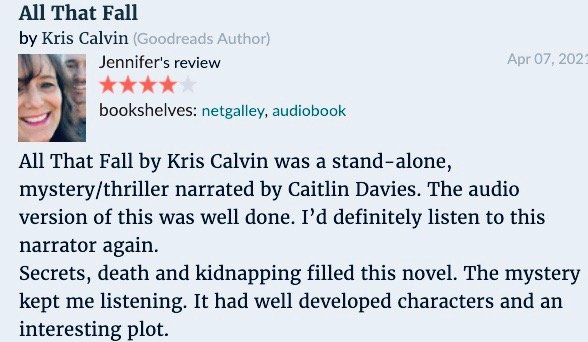 I got my first review from a cat. It's for the audiobook, which makes sense. Though I suspect this one can also read. —Kris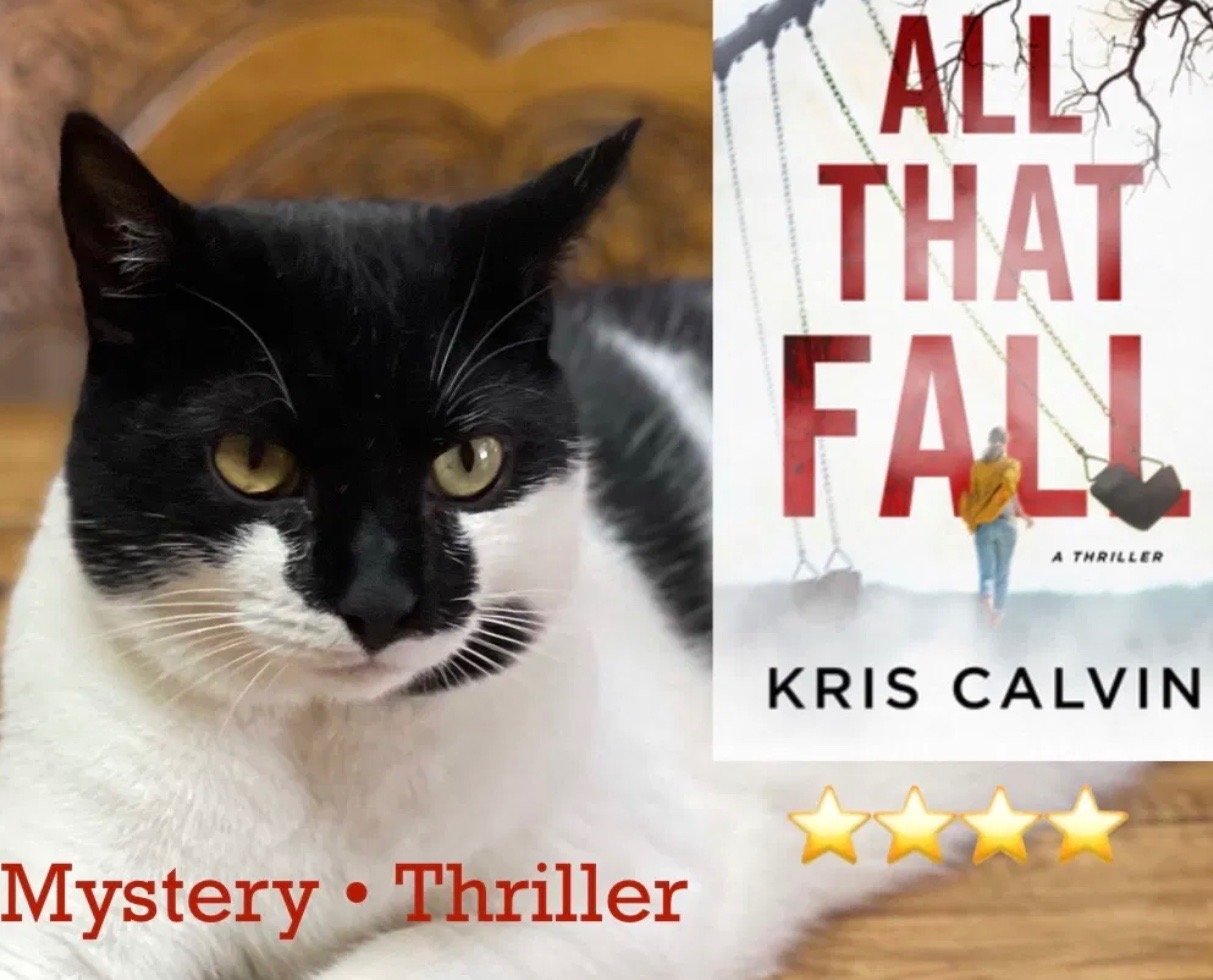 Invite Kris to join your Book Club/Writing Group or other gathering. She'll answer your questions about All that Fall, getting published, child advocacy (if you like) and her creative process. For a prompt response please use the contact form.
"Kris was a hit! Delightful, informative, interesting, creative and all around charming. Everyone has a story and hers is fascinating." —Solano Sunset Rotary
"Really, really enjoyed Kris's presentation today, she touched on many areas of interest…" —Rotary of West Sacramento
"Presentation was fascinating with great delivery." —Stockton Sunrise Rotary
To be the first to hear about Kris's news & events, receive special invitations, and see exclusive photos, sign up for Kris's VIP newsletter.
Your information will never be shared.