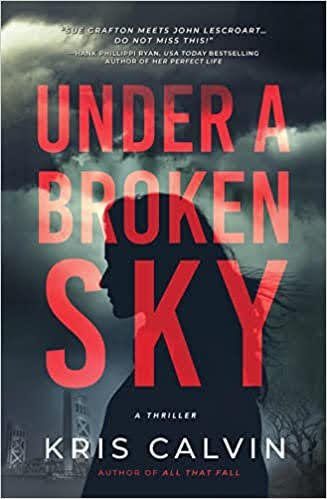 Under A Broken Sky
Suspense/Thriller
Ethics investigator Emma Lawson uncovers greed and deception for a living, but this is different.
If only she knew this killer can hear her.
He can see her.
Emma suspects corruption in California's billion dollar expansion to train travel, which puts her on the trail of a killer who will do anything to reach his illicit million dollar payday, including personally eliminating Emma as a threat.
Detective Alibi Morning Sun finds connections where no one else does. For Alibi, a drowning at a lake, a fire in a storage facility and a murder by the river all carry a thread soaked in blood.
Amid mounting danger Emma follows the money and Alibi traces bullets and bodies while the killer counts down to his grand finale.
Three days...Two days... Now only one…
---
---
PRAISE FOR UNDER A BROKEN SKY!



---
"Sue Grafton meets John Lescroart...
a determined and honorable investigator
must risk everything in search of her past and in search of justice.
Riveting and sophisticated—a wonderfully complex and surprising page-turner.
Do not miss this!"
—Hank Phillippi Ryan, USA Today bestselling author of HER PERFECT LIFE & 30-time Emmy winner
"Abandonment. Acceptance. Forgiveness.
Heady concepts to weave into a crime novel, but Calvin does it like a champ...
What a fun read. More, please!" "
—Tracy Clark, author of the Cass Raines Mystery Series & 2020 Sue Grafton Memorial Award recipient
---
"I'd be reading and suddenly realize hours had passed.
An outstanding addition to a powerful and entertaining thriller series!"
—Tamsen Schultz, award-winning author of the Windsor and Tildas Island series

---
"This suspenseful, emotional page-turner
should shoot to the top of everyone's must-read list!"
—Brianna Labuskes, best-selling author of A Familiar Sight
---
"In Kris Calvin's Under a Broken Sky, there are secrets people will kill to keep.
A chilling page-turner, one you'll be reading late into the night!"
—James L'Etoile, author of Black Label, Dead Drop, and the Detective Penley series
---
"With Under A Broken Sky Kris Calvin delivers an intriguing mystery
filled with compelling characters and a story that proves
all politics is local and all murders are personal."
—Eric Beetner, critically-acclaimed author of All The Way Down
---
"Calvin crafts an intricate, torn-from-the-headlines mystery.
A high-stakes suspense thriller!"
—Mark Wheaton, author of Emily, Eternal
---
A Note From the Author
Information for Sensitive Readers. Caution, may contain spoilers! You will not witness in any of my writing violence or unspeakable crimes against children. They may have hard histories or be frightened. There may be times we worry for them. Fictional adults, even beloved ones, may die. (These are, after all, thrillers and mysteries.) But every child you come to know will be safe.