To be the first to hear about Kris's news & events, receive special invitations, and see exclusive photos, sign up for Kris's VIP newsletter.
Your information will never be shared.
MAY 2021
ALL THAT FALL Tops the Charts for Fiction Sales in Oklahoma!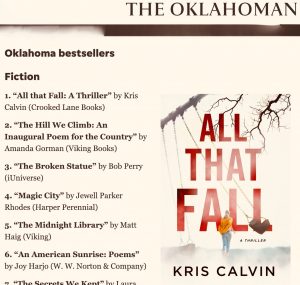 The Oklahoman, May 30th
---
APRIL 2021
Elaine Powell interviews Kris in The Big Thrill Magazine
---
Kris put 300+ hours into research & reviews for this piece featured in CrimeReads (aided by hot buttered popcorn): Kris's Top 10 International Streaming "TV" Thriller Series!
https://crimereads.com/escape-travel-limitations-with-these-10-international-thriller-series/
---
Nerd Daily—how cool is that?—invites Kris to The Writer's Corner for a wide-ranging interview.
https://thenerddaily.com/kris-calvin-author-interview/
---
Criminal Element invites Kris to discuss the mysteries, crime fiction, and thrillers she read during the pandemic that helped inspire her newest thriller, All That Fall.
https://www.criminalelement.com/books-that-inspired-kris-calvins-all-that-fall/
---
Catriona McPherson asks Kris to pop over to 7 Criminal Minds to talk "Trees, Bees, and Day-Drinking".
http://7criminalminds.blogspot.com/2021/04/trees-bees-and-day-drinking-guest-post.html
---
Sisters in Crime Sacramento puts the Author Spotlight on Kris and ALL THAT FALL this month.
https://capitolcrimes.wildapricot.org/resources/Documents/Newsletter_April_2021.pdf
---
MARCH 2021
Kris had such fun chatting with Dietrich Kalteis on Off the Cuff!
http://dietrichkalteis.blogspot.com/2021/04/off-cuff-with-kris-calvin.html
---
In a profile of her life and her writing process, SacTown Magazine journalist Ryan Miller speaks with Kris in the Mar/April 2021 edition. https://www.sactownmag.com/capitol-intrigue/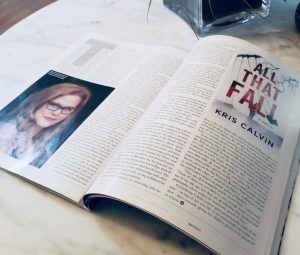 JUNE 2021
June 9th
Kris Calvin meets with the Laguna Sunrise Elk Grove Rotary Club to discuss child advocacy and writing/creativity.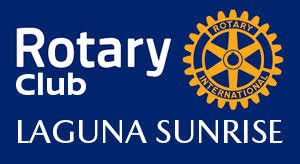 ---
June 17th
Kris Calvin joins the South San Francisco Rotary Club to talk about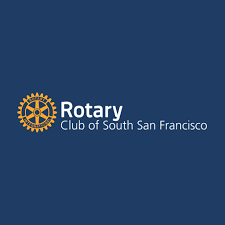 child advocacy and creativity/publishing.
---
MAY 2021
May 11th
Alysha Welliver in conversation with Kris Calvin to celebrate her newest novel, ALL THAT FALL. Hosted by Best of Books Oklahoma.
Archived available to view now: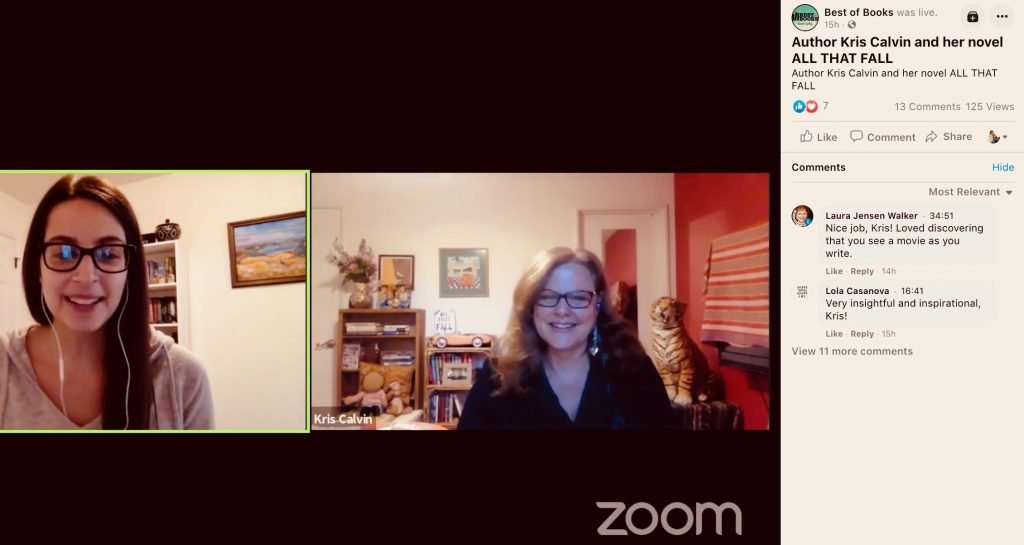 ---
APRIL 2021
April 23
Special Celebration of the launch of ALL THAT FALL with top thriller writer @GayleLynds in conversation with Kris Calvin hosted by @MurderBooks !
Archived available to view now: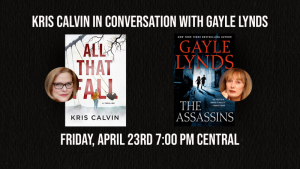 ---
Kris joins authors Alyssa Cole and Eliza Jane Brazier to discuss Psychological Suspense at the 2021 Murder and Mayhem in Chicago conference, hosted by Dana Kaye and Lori Rader-Day!

---
BOOK BIRTHDAY: ALL THAT FALL
PRIOR YEAR EVENTS