FOR EXCLUSIVE CONTENT, PHOTOS AND GIVEAWAYS SIGN UP TODAY FOR KRIS'S VIP NEWSLETTER.
YOUR INFORMATION WILL NEVER BE SHARED.
JULY 12
KILLER NASHVILLE READER'S CHOICE AWARD-VOTE NOW!
Kris Calvin's Under A Broken Sky is up for a 2023 National Reader's Choice Award from Killer Nashville!! You can vote here now for Kris. Nothing to buy, no list to join. 30 seconds of your time to help others learn about Kris's writing through this fan-driven recognition!! (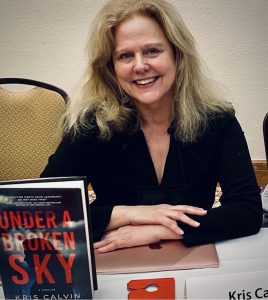 Note: Nominees are alphabetical by last name.voting closes July 24, 2023.)
https://killernashville.forms-db.com/view.php?id=246688&utm_source=Klaviyo&utm_medium=campaign&utm_campaign=Readers%20Choice%20Special%20Outreach&_kx=u-xkF4b_yvtEt_pbGyIy1XhFDggbrDTFWD0AnXBldqc%3D.XcKV6z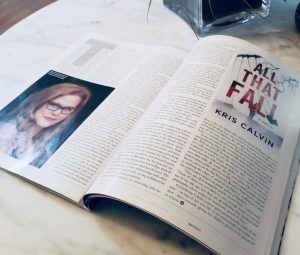 AUGUST 2022
Aug 2nd: Audiobook for Under A Broken Sky launches from Dreamscape Media!! Excited to again have award-winning actor & audiobook director Caitlin Davies as the narrator. (Available on Audible!)
https://www.amazon.com/Audible-Under-a-Broken-Sky/dp/B0B621MHXR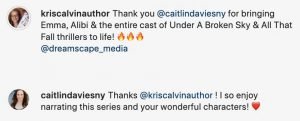 ---
JULY 2022
JULY 31: Delighted to be interviewed by @TheLiteraryVixen! Among many things, we talked about the most frequent positive & negative comments I get from readers, and how I would describe myself in three words.
Interview with an Author featuring Kris Calvin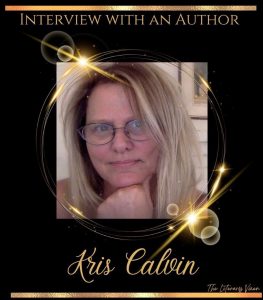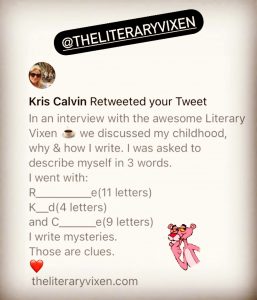 July 12: Big Day Today, the Launch of Under A Broken Sky in hardback & ebook!! The launch event will be held later, and I am on my own this evening so made my own celebration...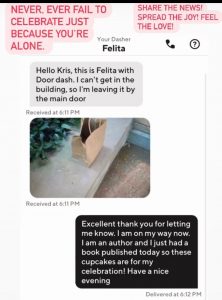 ---
APRIL 2022
APRIL 8th: Left Coast Crime 2022 Thriller Panel at The Hyatt in Albuquerque, New Mexico!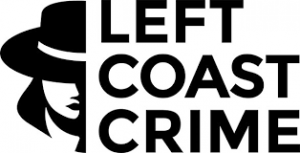 ---
---
---
---
FEBRUARY 2022
FEB 27th: Capitol Crimes Event with James L'Etoile at Face In the Book Independent Bookstore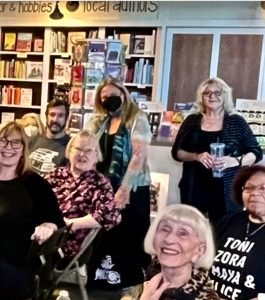 HIGHLIGHTED PAST NEWS & EVENTS
2021
May 31: ALL THAT FALL TOPS THE CHARTS FOR FICTION SALES IN OKLAHOMA!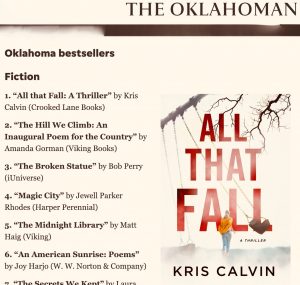 MAY 11: In conversation with Alysha Welliver to celebrate the publication of Kris's debut thriller ALL THAT FALL.
Hosted by Best of Books Oklahoma.
Archived available to view now: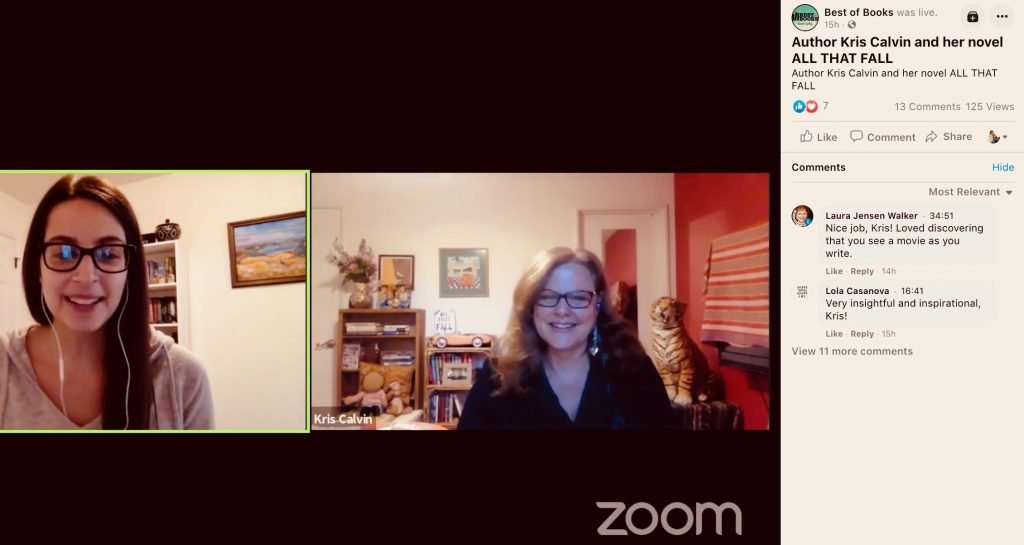 ---
APRIL 23: Special Celebration of the launch of ALL THAT FALL with top thriller writer @GayleLynds in conversation with Kris Calvin hosted by @MurderBooks !
Archived available to view nowhttps://youtu.be/JFstwKNnCU8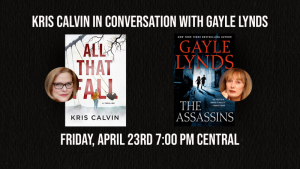 ---
APRIL 17 th: Kris joins authors Alyssa Cole and Eliza Jane Brazier to discuss Psychological Suspense at the 2021 Murder and Mayhem in Chicago conference, hosted by Dana Kaye and Lori Rader-Day!

---
April 14th: Kris put 300+ hours into research & reviews for this piece featured in CrimeReads (aided by hot buttered popcorn): Kris's Top 10 International Streaming "TV" Thriller Series!
https://crimereads.com/escape-travel-limitations-with-these-10-international-thriller-series/
---
APRIL 3rd: Elaine Powell interviews Kris in The Big Thrill Magazine
---
April 14th: Nerd Daily—how cool is that?—invites Kris to The Writer's Corner for a wide-ranging interview.
https://thenerddaily.com/kris-calvin-author-interview/
---
April 8th: Criminal Element invites Kris to discuss the mysteries, crime fiction, and thrillers she read during the pandemic that helped inspire her newest thriller, All That Fall.
https://www.criminalelement.com/books-that-inspired-kris-calvins-all-that-fall/
---
April 2nd: Catriona McPherson asks Kris to pop over to 7 Criminal Minds to talk "Trees, Bees, and Day-Drinking".
http://7criminalminds.blogspot.com/2021/04/trees-bees-and-day-drinking-guest-post.html
---
April 1st: Sisters in Crime Sacramento puts the Author Spotlight on Kris and ALL THAT FALL this month.
https://capitolcrimes.wildapricot.org/resources/Documents/Newsletter_April_2021.pdf
---
MARCH 4th: Kris had such fun chatting with Dietrich Kalteis on Off the Cuff!
http://dietrichkalteis.blogspot.com/2021/04/off-cuff-with-kris-calvin.html
---
Mar/Apr Edition: In a profile of her life and her writing process, SacTown Magazine journalist Ryan Miller speaks in-depth with Kris. https://www.sactownmag.com/capitol-intrigue/
---
BOOK BIRTHDAY: ALL THAT FALL
2019