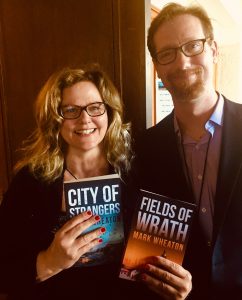 What I'm Reading:  The Father Luis Chavez Mystery Trilogy by Mark Wheaton
Mark Wheaton's action-packed and beautifully written Father Luis Chavez Mystery Series is more about modern social issues than it is about religion, though former Los Angeles gang member and recently-ordained priest Father Luis  Chavez underpins his search for justice, which  at times turns violent, with his struggle to live consistent with his faith.
The trilogy begins with Fields of Wrath, followed by City of Strangers, and completed with Wages of Sin. All are  character-driven, complex crime fiction thrillers. I hope someday there will be more Father Luis Chavez stories to read.
I  first met Mark in 2016 at the www.LeftCoastCrime.org mystery conference in Phoenix, Arizona.
He has successfully authored comics, screenplays, and novels across several genres, and cliched or not, he is one person about whom I can honestly say "his creativity knows no bounds".
In Mark Wheaton's critically-acclaimed sci-fi fantasy  novel Emily Eternal, an "artificial consciousness" engineered to help individuals face trauma must deal with a whole other level of psychic chaos when the human race is confronted with the impending death of the sun, the planet Earth and everyone on it.
"The most fascinating AI character in recent memory." – Entertainment Weekly.
And his newest thriller is due out March 2, 2021: The Quake Cities. Can't wait!
I am grateful to Mark for the kindness and encouragement he has shown me as a writer and as a friend.
Learn more about Mark Wheaton and his work here:
---
Subscribe to the Blog
---