I'm a serious fan of Tracy Clark's crime fiction/mystery series featuring Cassandra Raines, a young former Chicago cop turned private investigator.
I'm not the only one.
Clark's debut, BROKEN PLACES, made Library Journal's list of Best Crime Fiction that year, and CrimeReads named Cass Raines Best New PI of 2018. Publisher's Weekly says of the most recent in the Cass Raines series, "A potent mix of empathy and rage fuels Sue Grafton Award–winner Clark's exceptional fourth Chicago mystery. The action builds to an exciting showdown. Those who like their crime novels with a social conscience will be amply rewarded."
When I say I'm a serious fan, I mean serious!  I've read all four books, several of them twice AND listened to them on audiobooks. (Shari Peele is an award-winning  narrator and a fabulous fit for these books.)
So when I learned Ms. Clark had a new series with the first book due out last month I was concerned.
Did this mean no more Cass Rains? I wasn't ready for that. And suppose I didn't like the new protagonist or the new storyline?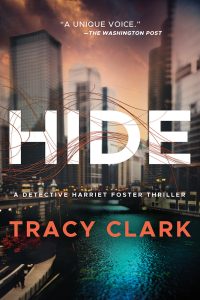 (Remember, I'm a very serious fan of that first series…)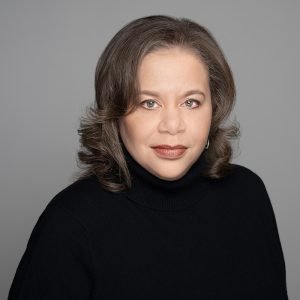 Fortunately, my worries were unfounded.
I finished the first Detective Harriet Foster book HIDE in one sitting and agree completely with award-winning author Jess Lourey's assessment that HIDE "…hits all the right notes—a captivating protagonist up against a nightmarish serial killer, their hunt played out  across a Chicago so immersive, so flawlessly rendered, that you can hear your own footsteps slapping the streets—while managing to create something completely unique. One of the best books I've read in years."
Though also set in Chicago, Clark's new protagonist Harriet Foster is a 10-plus year veteran on the Chicago Police Force who offers a completely different window into crime-fighting and justice than PI Cass Raines gave us.
One last thing: As an author, I know how difficult it is to write a brief biographical statement that doesn't sound like everyone else's. Tracy Clark achieves that and much more, sharing truth about herself and her writing while demonstrating how enjoyable well-written words can be, whatever their purpose. Take a look at https://tracyclarkbooks.com/about/
While you're there, perhaps consider using the link to pick up a copy of one of Tracy's books, whether starting with the first Cass Rains BROKEN PLACES  or jumping in with the new Harriet Foster book HIDE.
Happy Reading!
Kris 
ps My next Author of The Week is Brianna Labuskes. For delivery to your inbox (your information will never be shared) sign up here: https://www.kriscalvin.com/blog/ 
---
Subscribe to the Blog
---