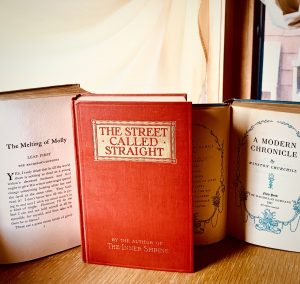 I've been researching the years 1910-1912 in the United States as background for a suspense/thriller I'm writing with a dual timeline that includes that period…
I started by reading the daily 1911 newspapers in the locale where the book is set—300 of them!  I learned a lot from the ads—the products people purchased, the theater shows they went to, the vacation spots that sought their business. But I still didn't feel that I had a real window into what it was like to live  in that era. How did people talk to one another—what was the slang of the day? What were their relationships like? What were the social norms?
I  consulted the list of bestselling novels in the US at that time…
After reading three, I'd gained a much stronger sense of place and lifestyle for 1910-1912 America—the research aspect of that effort was an enormous success!
But there was so much more…
The physical experience of holding those books in my hands and of turning the pages that were over 100 years old felt to me, as a life-long reader, to be such a gift.
Beyond that, reading these stories I was reminded there is merit in simple themes well-told…
These bestsellers are all, at their core, romances, each with a strong woman protagonist whose ability to make her way in the world and find happiness is largely dependent on the matches she makes. I don't read modern romance novels and therefore can't say how similar these are to those, but in 1910-1912 marrying for love versus money is a common driver of the plot, and class barriers to obtaining either/both are omnipresent. Religion—behavior God would and wouldn't like—is often at the forefront. Still, each of these novels transcends its time by examining the universal  struggle we face as humans:
"Is my life meaningful? If it is not now, how might I make it so?"
A caveat… 
I  want to stress again that these are simple stories. They are  largely predictable, and best read without high expectations. There's no shortage of melodrama, though once I permitted myself to accept that as part of the time in which these books were written, the authors' words had power, despite their not infrequent overreach.
So, here goes…
Below I offer a bit about each book in the order in which I read them:
THE MELTING OF MOLLY 
Maria Thompson Davies
(1912)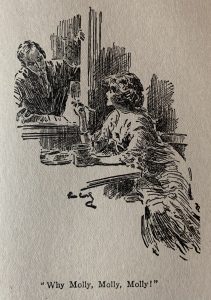 Light and humorous, this is a quick and entertaining read, though I was disappointed to find 25-year old widow Molly's "melting" in the title is meant  literally. Molly desperately wants to lose weight because an old beau, who she last saw when she was 17, is returning to the small town of Hillsborough, Tennessee where they grew up and where Molly still lives.  The novel is a first person account of Molly's weight loss journal, given to her by her doctor in which he's laid down the law about what she can eat and activities she must undertake. Molly takes the little red book a step further and utilizes it as a diary of all that is happening to her and how she feels about it.  Here's the first sentence Molly records: "Yes, I truly think that in all the world there is nothing so dead as a young woman's deceased husband, and God ought to give His wisest man-angel special charge concerning looking after her and the devil at the same time!"
THE STREET CALLED STRAIGHT
Basil King
(1911)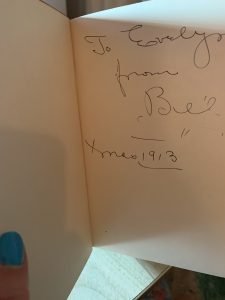 Figuring out what constitutes "doing the right thing" is challenging for both men and women in this story. It's written in close third person from multiple points of view, male and female. It's set in the Boston area.
At age 24, Peter  Davenant proposes to Olivia Guion, a woman well above his station. She doesn't bother to answer him, leaving the room as though a proposal hadn't been made. Eight years later, having made his fortune and traveled the world twice, Davenant chances to meet Olivia again, when she is engaged to another man. Regardless, romance must take a back seat to their individual (and disparate) pursuits of achieving an ethical life through strength of character. Here author King describes the thoughts of Olivia's father, an example of what happens when the path to the right thing is obscured:  "It was a cry, not of surrender, but of protest—of infinite, exasperated protest, of protest against fate and law and judgment and the eternal principles of right and wrong, and against himself most of all."
A MODERN CHRONICLE 
Winston Churchill
(1910)
(Note: Not "that" Winston Churchill; this is an American novelist.)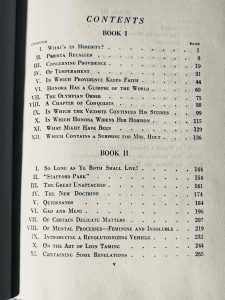 This is a winding and at times repetitive saga of a young woman whose beauty makes every man fall for her. Honora (have to love the name) tries to navigate that attention with an eye not only toward her dreams, but also the needs and feelings of others. Author Churchill  also engages directly with the culture of American capitalism and the risks of worshiping money above all else.
With patience, I felt rewarded, though unlike the other two novels,  I couldn't read it in one sitting. I could have done without there being so many  potential beaus! Still, I'm glad I persisted; there's a lot to think about in these pages.
It's told by a narrator who has their own presence: "All this belongs, however, to another history, which may some day be written. This one is Honora's and must be got on with, for it is to be a chronicle of lightning changes."
I bought these books for about $10 each from second-hand book vendors online (avoiding Amazon when I could, though they are available there). To my mind, it was money very well-spent.
Thank you for being a reader, whatever you read!
Kris 
ps A couple of questions for you:
(1) If you read modern romance, based on the quotes and brief overviews here I'd be interested in how you think they compare.
(2) If you write historical novels (or contemporary with a historical subplot) how do you go about your research?
---
Subscribe to the Blog
---