What I'm Reading: The Remains of the Day (1988)   Kazuo Ishiguro 
"An intricate and dazzling novel." The New York Times
"Brilliant and quietly devastating."— Newsweek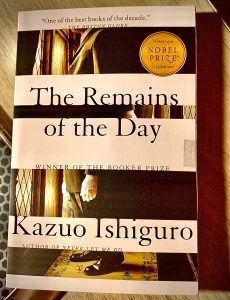 A famous book, you may have read it. The author, Kazuo Ishiguro, was awarded the Nobel Prize for Literature.
Or  perhaps you've seen the  1993 movie directed by James Ivory, streaming on Amazon Prime now, with a 94%  positive rating on Rotten Tomatoes.
When it came out, the film received eight  Oscar nominations including Best Picture, Best Director, Best Actor and Best Actress, though it was awarded none.
Until today, I had  neither read the book nor watched the full film, though I'd seen clips from the movie, and I wish I hadn't. Because as I turned the pages of the novel  for the first time   I couldn't  help but picture Anthony Hopkins and Emma Thompkins in the lead roles  of Stevens, the butler, and Miss Kenton, the housekeeper at Darlington Hall in England.  I don't know whether the images of these outsized, modern-day movie stars diminished slightly my experience of the novel. Or perhaps it's that it was so lauded, awarded, and praised that  it might have  been  impossible  or any work to live up to those expectations. In any case, I  did not think it was among the best books I've ever read.
But I was affected by it.
And I did enjoy it.
And I do recommend it.
The plot and the pacing are so different from what I'm used to (in thrillers and crime fiction)  and there is no real action on the page, though there are passages of intrigue and what we would now call psychological suspense. But the voice of Stevens never wavers throughout the telling and  I  could feel his quiet pride at his strengths and  his discomfort  with  his missteps.  In that  achievement alone,  the fact that I felt as though I coexisted at times with Stevens'  inner being, makes  the novel extraordinary. If you go into Remains of the  Day with an understanding that  it is different, and are open to  any sensations and insights it might generate, you might find what I found:  that it is a very worthwhile read.
---
Subscribe to the Blog
---